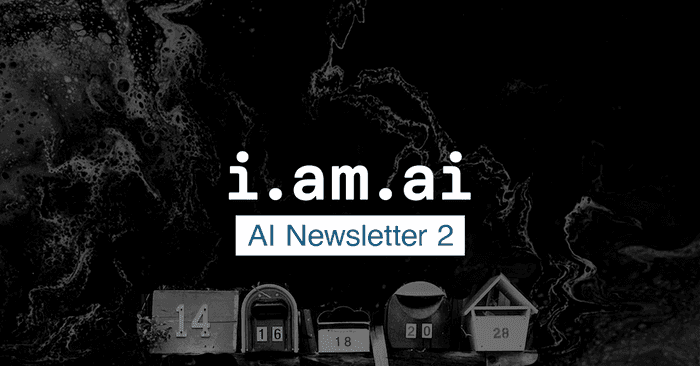 8 THINGS WE FOUND WORTH SHARING
💡  1. Use Cases – Researchers at MIT were able to detect asymptomatic Covid-19 infections through cough recordings (news.mit.edu).
🤯  2. Mind Blowing – In What It's Like To be a Computer: An Interview with GPT-3 developer and author Eric Elliott holds a coherent interview with the language model trained on Wikipedia texts (youtube.com).
💡  3. Use Cases – A showcase of creative machine learning experiments curated by Emil Wallner from Google's Arts & Culture Lab (mlart.co).
💭  4. Articles & Tutorials – Many of the above artworks were created with GANs. In this video Leo Isikdogan explains how Generative Adversarial Networks, e.g. StyleGAN2 work (youtube.com).
📖  5.Papers – A collection of the 10 most important Computer Vision papers of 2020 (topbots.com).
💻   6 Code – Pandas, a popular Python library for data handling, is slow. Modin offers a drop-in replacement for pandas dramatically speeding up data operations by taking advantage of multiple CPU cores (github.com).
🤯  7. Mind Blowing – IBM and Pfizer developed a Natural Language Processing system that is able to predict the appearance of Alzheimer's disease years ahead of the standard symptoms based on verbal test recordings. The resulting accuracy of about 70% is impressive, especially compared to the purely clinical prediction of 59% accuracy (voicebot.ai).
💭  8. Articles & Tutorials – A summary of the Stanford Institute for Human-Centered Artificial Intelligence's fall conference (hai.stanford.edu).
IN CASE YOU MISSED IT
📍 Three weeks ago we published our open-source AI Expert Roadmap. We received great feedback from machine learning online communities on Reddit, Hackernews, and over 5000 stars on GitHub. View the interactive version of our roadmaps here: i.am.ai/roadmap
UPCOMING EVENTS
📅 November 17 - November 18 (online) – The Rise of AI Summit 2020 starts today. Join speakers from Merantix, TietoEVRY, Siemens AI Lab and many more – Check in at riseof.ai
📅 November 17 - November 19 (online) – Also today Databricks begins their Data+AI Summit Europe with speakers from Facebook, Daimler and BuzzFeed – Join at databricks.com
📅 November 30 - December 1 (online, german) – BMWi Digital Gipfel: The Digital Summit of the German ministry for Economic Affairs and Energy including a panel discussion (Nov 30 at 12:55) on regulating and norming AI – Sign up at de.digital
📅 December 3 (online) – AIxIA: AI Conference 2020 The German-French AI conference previously hosted in Karlsruhe has gone virtual this year – Register at aixia.eu